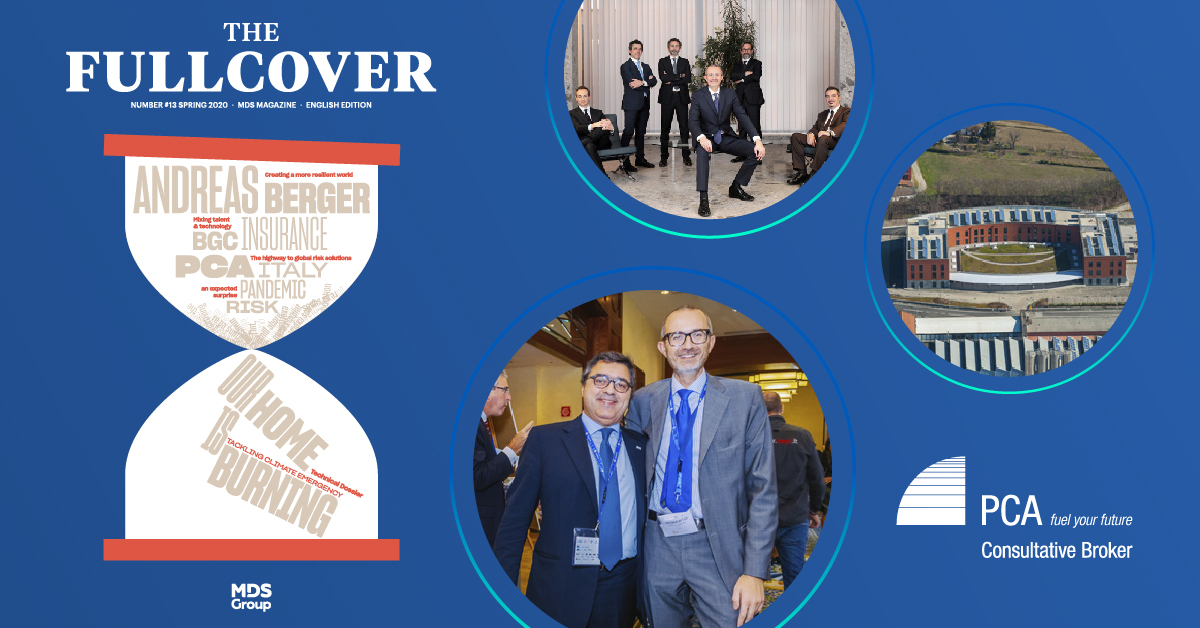 We are proud to share here with our friends and readers some inspiring excerpts from a much appreciated post about PCA that has been published on the latest issue of "The Full Cover" magazine by the MDS Group, one of the leading international brokers within the Brokerslink network.
FUEL YOUR FUTURE: A STORY OF INNOVATION
10 years of hard job and today one of the top 10 independent brokers in Italy with around €100 million premium income (data: ASEFI Brokers ranking, latest edition). This is PCA Consultative Broker, specialized in insurance and reinsurance, with some 60 employees working from five strategically positioned offices in Italy, for exclusively for large corporate clients in the field of construction, transport, automotive, logistics, marine, motorway concessions, clothing, food, environmental, industrial equipment and the church.
PCA is one the gems of the Gavio Group, a major multinational company and one of Italy's leading industrial businesses. The Gavio Group is the second largest toll road operator in the world, responsible for some 4,600 km of road across Europe and Latin America and recognised as one of the most important players in its sector.
To understand PCA's success story, one has to learn that such a company has grown over 30 years of history developing strategic know-how made of:
The great advantage for PCA clients is the potential of its flexible structure and the security of being with a large industrial group. These two factors ensure an unrivalled level of service nationally, the guarantee of a customised product offering and the benefits associated with a large group able to assert its commercial weight in the market.
The way PCA cares for all its employees is undeniably a winning factor. Investment in research and training for young talent enables staff to develop within their roles, resulting in higher retention rates — giving the firm a crucial competitive edge. Welfare system is also widely adopted to promote inclusion and diversity and boost everyone's talent.
Finding the right partner for PCA's strategic positioning in the international market was not an easy task. But finding Brokerslink in the person of José Manuel, Brokerslink founder and MDS Group CEO, PCA's path became clear. After all MDS and PCA shared a similar history. Both companies were founded within large groups — PCA, part of the Gavio Group and MDS, the Sonae Group — and both grew to become two major independent, international brokers. So José Manuel became somehow a "mentor", the one who, some years before, brought to life the projects PCA was working on. Being a Brokerslink member gives PCA an overall strategic asset that is at the core of its international role.
The future of the broking sector is under significant threat. Brokers can only respond by streamlining, innovating and modernising their services. PCA believes the sector should pursue sustainable growth; not through wild acquisitions, exclusively focusing on volume growth, but with strategic partnerships. Furthermore, growth strategies should focus on the less competitive markets and concentrate on retaining customers and employees, building brands, offering more crisis management tools, raising wider risk awareness and sharing knowledge regarding the latest tools to mitigate them.
Ongoing innovation: "Embrace the good side of risk"
Augustas Risk Services was incorporated in May 2019, combining the experience, expertise, clients and contacts of PCA's Risk Consulting Department with MAO Risk Consulting, a company founded in 2016 by Maurizio Castelli, current CEO of Augustas. The new business offers risk management consultancy, assessing customers' risks using the latest international guidelines. Structured in two main lines of business – risk consulting and risk servicing – they cover the entire 'risk chain' – from assessment to response, providing solutions for all risk management problems including enterprise risk management, operational risk management, project risk management, risk engineering and alternative risk transfer.
The "risk culture" of PCA
The most exclusive product developed by PCA is dedicate strong efforts to promote the culture of risk, i.e. the awareness of how risks pose existential threats to the survival of every company, every day. Today more than ever. Risk should no longer be considered something to escape from. It's quite the opposite. Risks are the origins of business growing stronger – if risks are found, assessed, managed, mitigated.
After 30 years of history, PCA looks at the future with the same courageous determination to help companies get safer and stronger – by converting risks into business, whereas future does not look so dangerous as before. That's it: fuel your future.
If you want to read the full edition of this post, with inspiring quotes from our CEO Roberto Armana, please go here where you can also have the full edition of the magazine "The Full Cover": https://www.mdsinsure.com/en/digital-fullcover/
We are always at your disposal for a prior assessment of your company's profile: just contact us.
Thank you for your attention and reading! We also invite you to follow our Linkedin and Twitter social profiles to follow the innovations and development trends for the insurance market.